Education on three levels
Immagine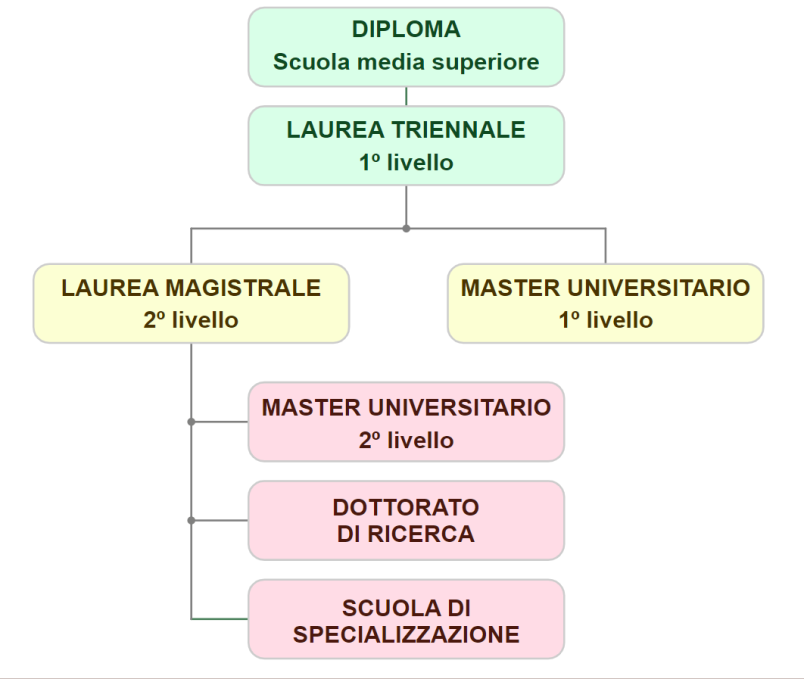 The university reform, initiated in Italy by Ministerial Decree 509/1999 and supplemented by Ministerial Decree 270/2004, introduced major changes into our university system with the objective to adjust it to the European model of higher education based on three main levels of study: Bachelor's degree programme, Master's degree programme, Doctoral Research programme/Specialisation Diploma. Since university education is divided into two main cycles (Bachelor's degree and Master's degree) you can exploit your first few years at the university to better understand your inclinations, assess your success in your studies and thus make a better choice for a possible continuation with a Master's degree programme.
BACHELOR'S DEGREE
level 1 qualification awarded after competing180 university credits (CFU- ECTS)
MASTER'S DEGREE
level 2 qualification awarded after completing 120 university credits (CFU- ECTS)
Ph.D. DEGREE
is the highest academic qualification and provides the necessary skills to conduct research projects, in a scientific or production context, that involve innovation and development objectives. In order to be admitted to a doctoral programme, you need  to have a Master's degree and to take part in an open competitive selection.
SPECIALING MASTER'S DIPLOMA
in order to meet the specific needs of the labour market, after your Bachelor's or Master's degree, you can choose a First or Second Level Specilalizing Master's programme with a high-level professional content.
POSTGRADUATE SCHOOL
aims to provide knowledge and skills for functions required in specific professional activities.  Admission to the Scuola di Specializzazione (Postgraduate School) is possible after earning a Master's degree.