Writing a Ph.D. thesis and defending it are the final steps in the career of Ph.D. candidates. The thesis must include original research contributions developed by the Ph.D. candidate under the guidance of a supervisor.
A common layout for Doctoral theses is available on Sharepoint.
The CLA language experts are available to help Ph.D. candidates to identify their difficulties with the English language during the drafting of their doctoral thesis. The service of the language experts is not a proofreading service. The language experts are available by appointment (write to esperti.inglese@polito.it, for a 30-minute session). 
In order to avoid problems with plagiarism, Politecnico has prepared a document on copyright and industrial and intellectual property and some guidelines on plagiarism and self-plagiarism. The thesis wille be verified against plagiarism by the supervisor with Turnitin anti-plagiarism software (here the guide for the supervisor).
After the oral defence, a copy of each doctoral thesis will be automatically deposited into the University repository and will be available online with open access (provided that it is not a thesis withheld with an embargo).
Immagine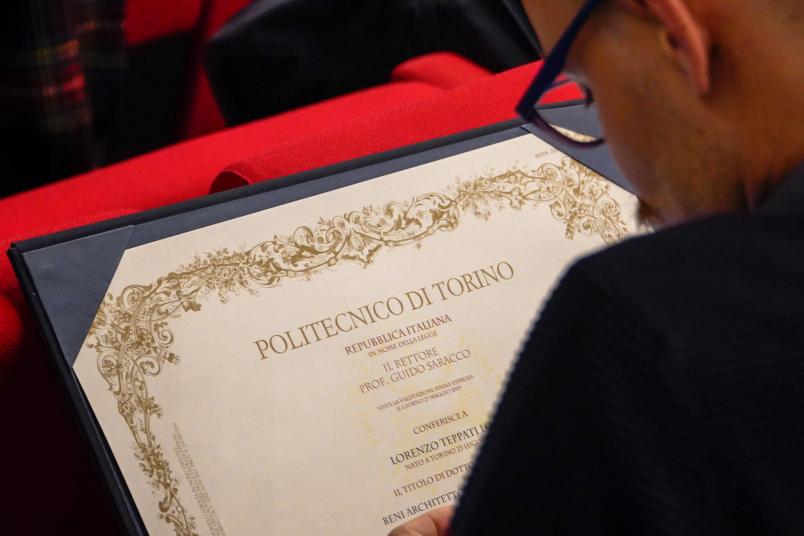 For amission to the final examination (oral defence) Ph.D. candidates are required to:
meet the requirements on training and research activities and obtain a positive evaluation of their thesis from the Academic Board; 
register online for the final examination and pay a 32,00 € fee (cost of the revenue stamp and issuance of diploma);
fill in an evaluation questionnaire about their experience as Ph.D. candidates (availabe on the personal page of the Teaching Portal).
The procedure for the final oral defence is available in this document and online in the dashboard.
Ph.D. candidates defend their thesis during the final oral defence that is normally organized in person at the univerisity or in blended mode (in-person and online). The date of the oral defence is decided by the Examination Board and cannot be changed.
Members of the Examination Board with the right to vote who do not live in Torino are allowed to get a refund of their mission expenses (mission expenses reimbursement) in accordance with the Regulations of Politecnico di Torino. 
The degree parchment is usually collected during a ceremony, but it is also possible to collect it at the Student Office, personally or authorizing a trusted person or requesting the shipment. For degrees awarded from 1987 to 1998, it is necessary to contact the Ministry of Education (MIUR).