Immagine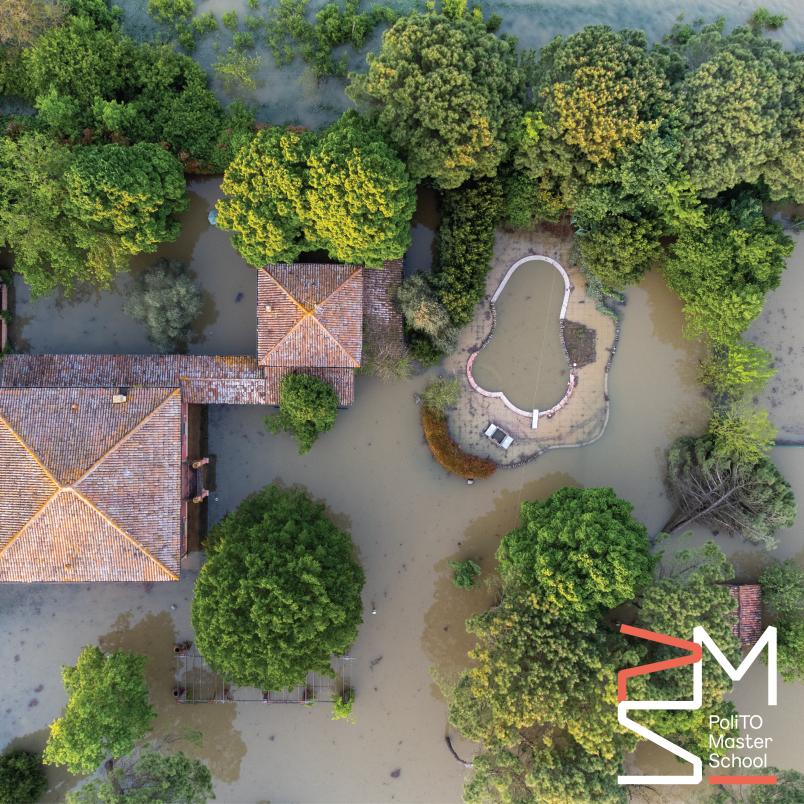 This course is designed, and delivered, as part of the "Lifelong Learning Initiatives" offer catalogue of the PNRR Innovation Ecosystem Project "NODES - Nord Ovest Digitale E Sostenibile". The subjects dealt with were assessed as capable of producing a considerable impact in terms of territories and industrial systems intercepted and generates the possibility of increasing the ability to share skills by creating a network of value on the territory.
The programme
The course will be held twice a week, on Wednesdays and Thursdays, for 4 hours per session. The objective of the course is to provide the knowledge and tools necessary to better understand the modalities of the European emergency management service funded by the Copernicus program, in order to be able to use and integrate the products generated at all territorial levels (local, regional, national, and international).
The educational program will address topics related to the use of Earth observation data for the creation of mapping and datasets useful for managing emergencies resulting from natural disasters and/or events caused by human activities.
Special attention will be given to the characteristics of the generated products, their integration into response and emergency monitoring procedures by public and private entities involved in intervention, and the methods of requesting activation and interacting with the service itself.
The course will be delivered in collaboration with the Joint Research Centre of the European Union, the entity that coordinates the service at the European level, and the Department of Civil Protection. The course is also organized in collaboration with ISPRA as part of the "Geosciences" project activities.
Details:
• The Copernicus program and the national-level organization
• Theoretical and applied assumptions
• Description of the service and practical examples
Target
The course is aimed at professionals who want to acquire in-depth knowledge of the Emergency Management Service developed within Copernicus (https://www.copernicus.eu/it), the European Union's Earth observation program.
Through this thematic focus, the course wants to transfer knowledge about the functioning of Copernicus, starting from the dynamics of public-private collaboration and technology transfer.
The programme is therefore aimed at sectors such as:
local and national public entities (including local Civil Protection agencies),
private companies in sectors that are most interested in developing new data-driven approaches for emergency response (e.g., insurance sector, agriculture, public utilities),
aerospace companies intending to develop products and solutions for emergency management using Earth observation data.
Calendar
DAY

DATE

TIMETABLE

TOPIC

COMPANY

PROFESSOR

1

Wednesday 22th November

2 hours

 

Introduction to Copernicus: what it is, introduction to the 6 services




from Europe to Italy 

Copernicus ecosystem:

National Delegate

Prof. Andrea Taramelli

2 hours

Introduction to CEMS service: how/why it was established

Structure and organization of the service

Role of the entrusted entity

JRC

Prof. Simone Dalmasso 

2

Thursday 23th November

2 hours

Civil Protection Department: description of role of DPC

Activities and emergency management in Italy

How Copernicus services are used

DPC

TBC

2 hours

Basics of Remote Sensing: what is remote sensing, definitions and basic principles

Electromagnetic spectrum and energy-matter interaction. Atmospheric transmission windows

Satellites and sensors: active and passive - focus on Sentinel constellation. Mention of contributing missions.

Resolutions: radiometric, spatial, spectral, temporal

PoliTo

Piero Boccardo/Susanna Grita

3

Tuesday 29th November

2 hours

Basics of Remote Sensing: additive color theory - examples of optical and SAR images at different resolutions

Methods for extracting information from images: photointerpretation, supervised/unsupervised classification, OBIA, multitemporal analysis

PoliTo

Piero Boccardo/Susanna Grita

2 hours

Applications on Geo-hazards: round of interpretation excercises on different natural disasters (all together)

Fires: band ratios (e.g. NDVI, Burnt Area Index...)

Floods: SAR vs optical data - example of multitemporal monitoring

Damage assessment: VHR photointerpretation: pre- and post-event analysis/change detection

PoliTo

Prof. Piero Boccardo & Prof. Susanna Grita

4

Wednesday 30th November

2

Applications on Geo-hazards: tutorial on EO-browser

Excercise on how to visualize flood events with SAR data (Sentinel-1) and optical data (Sentinel-2). Creation of a multitemporal GIF (in small teams)

PoliTo

Prof. Piero Boccardo & Prof. Susanna Grita

2

GeosciencesIR - A new research Infrastructure:

Objectives and description of GeosciencesIR project

Activities and work packages related to emergency management. 

ISPRA

Prof. Daniele Spizzichino & Prof. Barbara Dessì

5

Wednesday 6th December

4

Focus on Risk and Recovery and Rapid Mapping: rapid Mapping and description of the service, its products and service providers.
 

e-Geos/ITHACA

Prof. Lucia Luzietti

6

Thursday 7th December

4

Focus on Early Warning systems (EFAS, EFFIS, EDO) and the new CEMS exposure mapping component floods:

EFAS-GloFAS (2h) 

Fires: EFFIS (2h)

JRC

Prof. Peter Salamon & Prof. Jesus San Miguel

7

Wednesday 13th December

4

Focus on Early Warning systems (EFAS, EFFIS, EDO) and the new CEMS exposure mapping component:

drought: EDO-GDO (2h)

exposure mapping: GHSL (2h)

JRC

Prof. Andrea Toreti & Prof. Thomas Kemper

8

Tuesday 14th December

4

ITHACA demo: hands-on excercises

ITHACA

Prof. Cristina Monaco

9

Monday 20th December

4

Conclusions and Wrap up: link between CEMS and other services (e.g. with Land and/or Security)
 

Future developments of the service

Q&A session

Conclusion and final greetings

All

 
Application:

Deadline on October 20th 2023 at 2:00 p.m. (CET)

Time schedule:

November 2023 - January 2024

Campus:

Online

Duration:

36h - 4 hours twice a week

Language:

English

Format:

Part-time

Partecipation fee:

600€

Scientific coordinator:

Edition n°:

1

This course is part of the project NODES which has received funding from the MUR – M4C2 1.5 of PNRR with grant agreement no. ECS00000036
Il corso è progettato nell'ambito del catalogo di offerta "Lifelong Learning Initiatives" del Progetto PNRR dell'Ecosistema dell'Innovazione "NODES - Nord Ovest Digitale E Sostenibile", in particolare per le tematiche dell'Aerospazio e Mobilità Sostenibile, Spoke 1, coordinato dal Politecnico di Torino. Il progetto è finanziato tramite fondi PNRR.